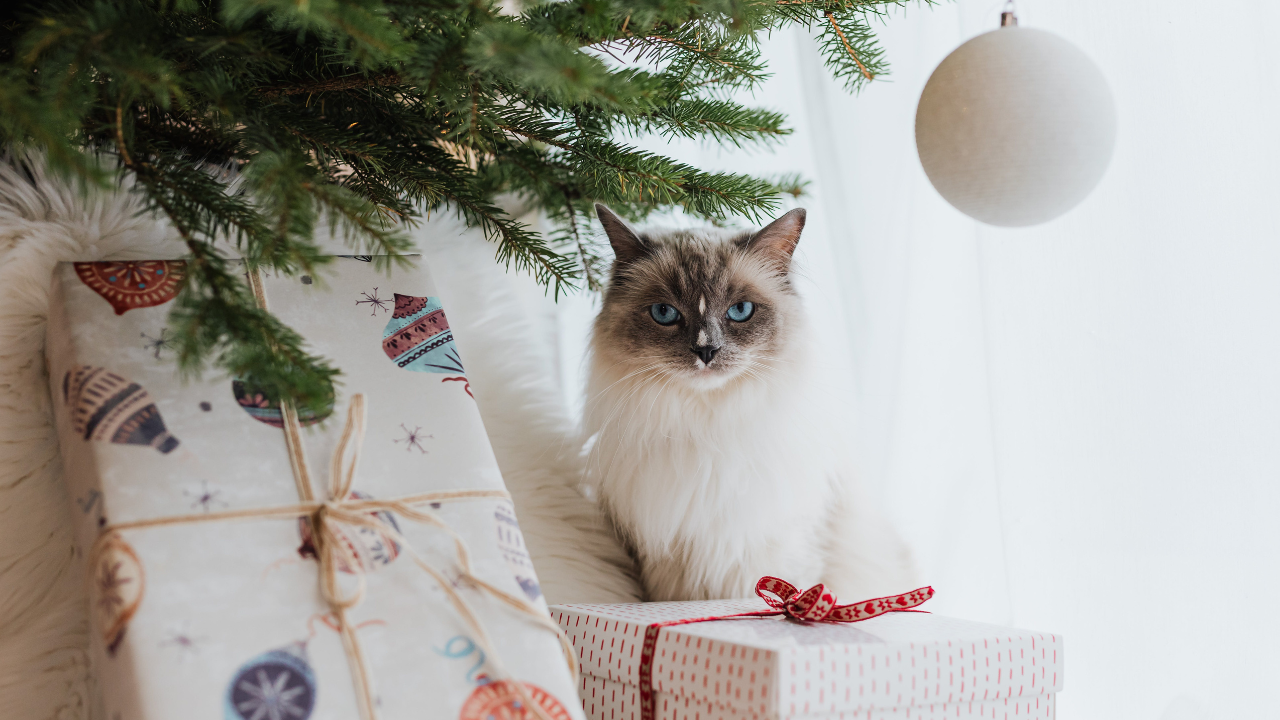 Cat Lovers Gifts: Guide For the 12 Best Gifts for Cat Lovers
Cat parents are known to have a fierce love for their feline friends. For many cat owners, their cats are more than pets, and they are like their children. This special bond between cat parents and their cats makes them unique, and what better way to celebrate it than with a thoughtful gift?
In this blog, we've curated a list of the best gifts for cat moms and dads so you never have to struggle with finding the perfect gift again!
Window perch that can fit in any window
One of the best gifts you can give your cat-lover friends is a window perch or cat tree. These provide a fun and safe space for their cat to watch the birds and squirrels outside and then take a nice long nap. My cats literally use these every single day! I wish I bought more than one!

This economical, spacious, and lightweight carrier is perfect for bringing your cat along on a walk. Sit down at the park in the shade, and your cat can watch the birds and squirrels through the mesh windows. My cat likes his so much I'll catch him inside it taking a cat nap. 
This unique gift idea is sure to delight cat lovers. Choose a fun mug and buy some catnip tea for them to share with their kitty.

My Co-Worker is a CAT and Roses are red, violets are blue Thanks for feeding me and scooping up my poo Custom Name 

Feline aficionados prone to being categorized as crazy cat lovers will enjoy playing this game, where the object is to rescue as many cats as you can!
The game can be played with 1-4 players ages 8 and up. Embark on a mission to the Isle of Cats and save as many cats as you can from the evil Lord Vesh!
Cookbook and Premix

Delight and empower the cat lover in your life by gifting them the Holistic Vet Blend cookbook PDF download free with any purchase of a Holistic Vet Blend product.
Transform your cat's mealtime with "The Holistic Vet Blend Cookbook for Cats: Every Pet Deserves a Homemade Meal." Dive into a collection of over 40 recipes meticulously crafted to offer your feline the pinnacle of nutrition and taste. If you are new to the concept of homemade cat food, this cookbook is the ultimate guide to ensuring your cat enjoys a diet that's as delicious as it is beneficial.
Expertly devised by Dr. Dody, who has over 30 years of experience in the veterinary field with a focus on holistic care and a passion for natural nutrition. Every recipe in this cookbook champions the health of your cat. Discover how easy it is to prepare meals that not only tantalize your cat's taste buds but also infuse their diet with essential nutrients. From the freshest proteins to the choicest greens, you'll find ways to use fresh meat, whether organic, homegrown, or seasonal ingredients you can trust.
Unlock the secrets to:
- Crafting balanced, homemade cat meals 
- Integrating raw and cooked healthful, fresh ingredients into every dish
- Preparing meals that support a healthy feline microbiome
- Reducing the environmental impact of pet food waste
"The Holistic Vet Blend Cookbook for Cats." is more than just a recipe book—it's a manifesto for a lifestyle that prioritizes your cat's health through natural, holistic nutrition. With this cookbook, you can wave goodbye to the uncertainty of commercial pet foods and embrace a life where you control the quality of your cat's diet.
The Holistic Vet Blend line of nutritional supplements contains calcium, vitamins, trace minerals, and taurine to complement the meat and greens that you purchase at the market.
Make the switch to homemade and witness the transformation in your cat's vitality and vigor. After all, every pet deserves a meal prepared with love and the wisdom of holistic care. Your feline friend is not just another cat—they're a cherished family member, and with "The Holistic Vet Blend Cookbook for Cats," their meals will reflect just that.

How healthy would you be if you ate the same processed food out of a can or pouch 365 days a year? They will never stop thanking you!

It's so much fun playing with talking buttons. You record whatever it is you want in your voice on the button, and they get to press. Here Phoenix is pressing over and over, "Give me a treat!" It's a great gift for someone who needs a really good parlor trick when they have visitors over the holidays. Ideas.... "What did you bring for me?" "Time for you to go home!"

I love it when a cat scratcher doubles as a lounge. 

 If the cat lovers in your life need to get out more, this could be the perfect gift. There is a basket in the front of the bicycle and one in the back as well.

Your basket will mount nicely to the front of your cat-lover mobile!

For the cat lover who is also a book lover! Your cat-loving friends will enjoy cuddling up with their best pal on the couch and reading about feline and human adventures.

Cool cats like to wear a hip collar with an air tag so that they can be located easily. I like this added measure of safety, as one of my cats likes to slip outside impersonating a dog when I'm not paying attention. I love this added measure of safety in the case of an escape.
The collar does not come with an air tag. You must purchase one separately. They come in 4 packs, so you can put them on other items such as suitcases, wallets, and keys. And they can all be tracked on the Find My app.

Your cat-loving friend will not have to leave them at home when they go for a walk! Your furry friend can travel in style and watch the world go by. It's lightweight and easy to push along.
I like to bring the cat along when we go for a dog walk. In areas that are quiet and safe, I will take my cat, who is on a harness, and let them have a walkabout on the grass or sit under a tree and watch the birds.

I like that this is a lightweight harness and is somewhat non-restrictive when walking. I find that many of the cat harnesses out there will precipitate my cats flopping over on their side and refusing to budge or trying to work their way out of the harness.
This harness comes with a flexible bungee leash so that there is some give when on a walk with your favorite feline.
In conclusion, we've curated this list of the 12 best gifts for cat lovers with absolute impartiality. No money exchanged hands to feature these items; they are handpicked by people who love cats, for people who love cats. These gifts not only resonate with the charm and endearing quirks of our feline friends, but they also pay tribute to the profound bond shared between cats and their humans. Celebrating what cat lovers truly value, their cats, we believe these gifts will bring a smile to both the giver and receiver, enhancing the joy of the human-animal relationship.
So, the next time you're stuck on coming up with thoughtful gifts for cat lovers, use this guide to help create the perfect present that celebrates their love for their furry family member.