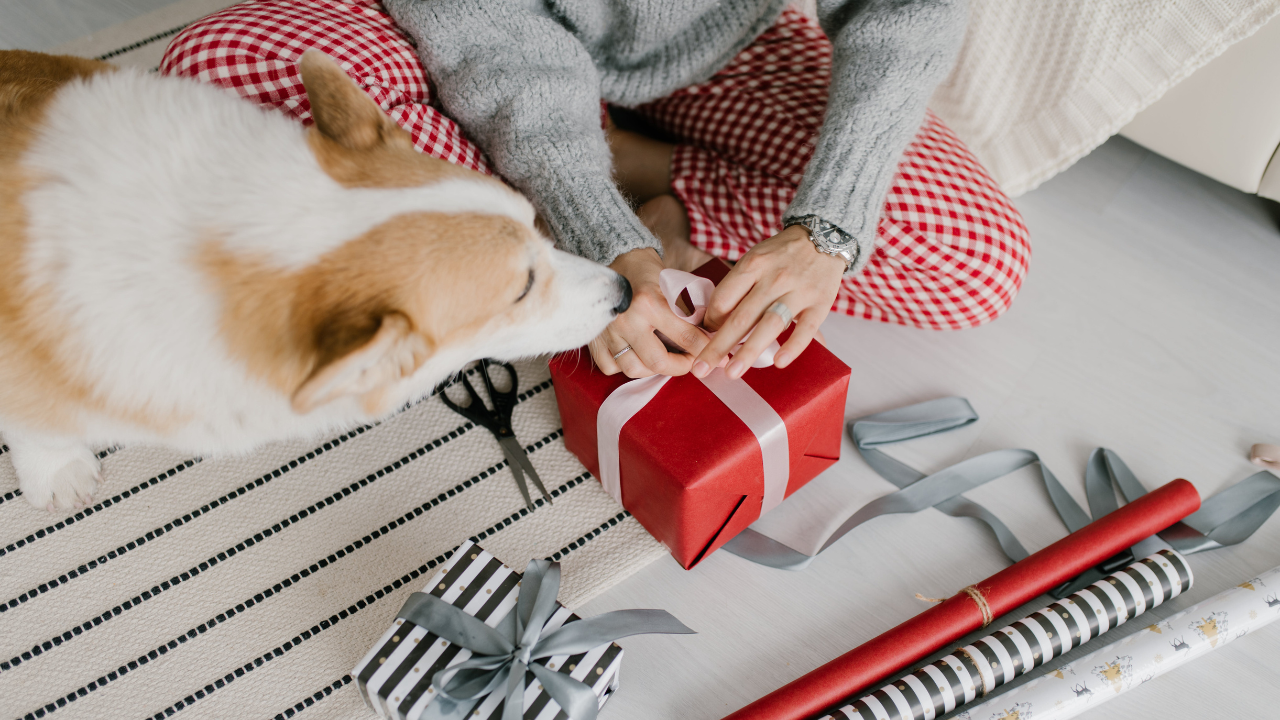 Best Gifts for Dog Moms and Dads
As a dog lover, you will agree that your dog is part of your family. They bring unconditional love and joy into our lives, and they make every moment special. We treat them like babies and love them unconditionally. This love and bond between a dog and their human is special, and we celebrate it with them every day. However, with special occasions such as a birthday or Christmas around the corner, it's time to think about gifts for your furry friend's dad or mom. In this blog post, we have compiled some of the best gifts for dog moms and dads that they will surely love.
1. Solutions for A Dog Lover in a Challenging World! The New Click to Calm

The New Click to Calm: Solutions for All Dogs in a Challenging World by Emma Parsons is more than just a book; it's a lifeline for dog owners struggling with various behavioral issues, such as leash reactivity, aggression, or separation anxiety. This comprehensive guide offers effective strategies based on positive reinforcement techniques that can transform challenging situations into opportunities for learning and bonding.
Imagine a daily walk that has become stressful due to your dog's reactivity towards other dogs or people. Instead of dreading these encounters, "The New Click to Calm" equips you with the tools to turn these moments into positive training opportunities. By using the methods outlined in this book, reactive behaviors can be replaced with calm and focused responses, making walks a joyful and stress-free experience for both you and your furry friend.
Similarly, for dogs dealing with separation anxiety, the book provides practical solutions to help them feel secure when left alone, enhancing their overall well-being and reducing their worry when they need to leave home.
This book is an excellent gift for any dog lover seeking to deepen their relationship with their canine companion. It emphasizes the importance of understanding and communication in shaping a dog's behavior, fostering a stronger human-animal bond. The positive training techniques championed in this book not only improve behavior but also enhance the trust and mutual respect between you and your dog.
Karen Pryor i-Click Dog Training Clicker

Make sure you get some clickers to gift to dog lovers along with the book.

This canine enrichment book is the solution for every bored dog and their person.
With a variety of puzzles, games, and challenges, pet parents and their dogs can use their problem-solving skills and enjoy a mental workout.
There is something for every dog in this book. Not only will the activities in the book keep dog lovers occupied, but they also provide a means to strengthen the bond between you and your canine companion as you work together to solve the puzzles.
Plus, it's a great opportunity for some quality one-on-one time with your pooch. So, grab a canine enrichment book, get ready for some tail-wagging fun, and watch your dog's boredom disappear and their excitement unfold!
**Terms and conditions: book does not come with adorable dog

This is by far the best dehydrator that I have used to dehydrate meat jerky for my dogs. I love that you can make your own meat jerky as this one is not plastic and can dehydrate at a higher temperature. I am more comfortable with this as it is safer for eliminating pathogens. Have confidence that your jerky treats are of the highest quality as you bought fresh meat and made them yourself.

Check out this video on dehydrating your own pet treats. Grab this one on sale!
Unfortunately, jerky treats are expensive oftentimes and seem to be commonly implicated in recalls. Know where your treats came from when you get to choose. The very best gifts for dog lovers are the ones that empower them to make healthy treats versus buying overpriced, unhealthy calories in a bag.
Bringing out the brush can cause a dog to run for the hills. Massage brushing gloves are a great way to massage and brush your dog at the same time. As you run the glove over your dog, it does several things:
removes unwanted hair they would normally shed on your floor
releases endorphins, those feel-good chemicals
stimulates circulation

It provides a fun way for a dog parent to connect with their favorite animals. It features a set of custom buttons, each programmed with specific phrases that enable pets to communicate with their parents. Pet owners have the freedom to express their emotions or enjoy a pleasant conversation with their owners no matter how much they love them.
6. Viklluyr Dog Treat Pouch Bag with Magnetic Closure, Dog Food Carrier with Removable Inner Pocket, Perfect Dog Training Bag for Agility Training - Including Carabiner

This training pack is small yet provides the perfect amount of space for dog lovers to store their treats, phone for those fur baby selfies, and of course, space for poop bags. It's perfect for the dog lover in your life who goes to agility or obedience training or needs a handy dandy way to carry their stuff on dog walks.
7.
A pet cam for peace of mind

 It is not necessary to purchase fancy dog cams. This one has 4 options for sharp images, 4 options for video storage and continuous recording and is capable of distinguishing among different motions and sounds.
8. Premix and cookbook free!
The new Holistic Vet Blend Cookbook is a collection of over 80 fresh pet food recipes exclusively for dogs. Pivoting from store-bought pet foods loaded with preservatives, fillers, meat by-products and grains does not have to be an arduous and expensive process. Featuring a quick start guide to help the reader get going, this cookbook includes a wide selection of meal recipes for the stove top, pressure cooker, or slow cooker, along with treat and bone broth recipes. If your pet has experienced nagging food allergies, digestive issues and other health issues learn more about how a healthy diet of homemade fresh pet food can be a game changer.
Our newly revised and updated cookbook comes as a free pdf download with any purchase of a Holistic Vet Blend product. The cookbook has over 80 recipes including treat recipes, and homemade dog food recipes that can be made on the stovetop, Instant Pot, or slow cooker.
The cookbook also walks dog lovers through making a raw diet for their dog, and considerations that dog owners should know when feeding a raw diet.
Give the gift of a making homemade healthy food for the dog lovers in your life with this unique gift.

The Chuckit! Ring Chaser ring can be picked up off the ground for a slobber free pickup and when you flick it off the handle it will bounce, roll, and hop when it hits the ground, mimicking prey running and bouncing away. This is exciting for our prey driven dogs that want to chase.
The Chuckit! Ring Chaser is a variation on the Chuckit! Ball Chucker. I like it because it is easier to throw than the ball Chuckit! I do not use tennis ball toys for dogs as much as possible as they wear their teeth down. Instead, I prefer the Chuckit! products.

A reflective dog collar with an AirTag holder is the perfect gift for any dog lover who values safety and peace of mind. This innovative accessory combines visibility and tracking features in one sleek design that prioritizes your pet's well-being. Its reflective material ensures that your furry friend is easily noticeable, even in low-light conditions, reducing the risk of accidents during those early morning or late evening walks.
The built-in AirTag holder, designed to seamlessly hold Apple's small, coin-shaped tracker, adds another layer of security by allowing you to keep track of your pet's whereabouts in real-time via the Find My network. It's a game-changer for those moments when your curious companion might wander off, providing instant location updates directly to your phone. With this collar, you're not just gifting a practical accessory but also the priceless peace of mind that comes from knowing your beloved pet is safe and sound at all times.
Are you tired of your dog's identity crisis? Is your Chihuahua convinced he's a Rottweiler, or does your Bulldog fancy himself a Greyhound on the racetrack?
The Wisdom DNA Test for dogs could be the hilarious and enlightening gift that every dog lover needs. With this unique present, you can finally reveal to your furry friend whether they're genetically predisposed to defend the house like a brave German Shepherd or chase rabbits with the tenacity of a Beagle. Imagine the surprise when you find out your couch potato Basset Hound shares genes with a hyperactive Border Collie or your feisty Jack Russell has the calm demeanor of a Saint Bernard lurking in their DNA!
Even if the results aren't always spot-on, the fun lies in the anticipation and the often-comical revelations. Remember, though, if your Poodle's test claims they're part Retriever, don't just assume they'll start fetching your slippers anytime soon!
Of all the dog breeds, which one are you?

This daypack is high quality, reasonably priced, and just right to fit your dog's water bottle which is all that I ask them to carry on a walk.
I highly recommend a lightweight water bottle to fit in the side pockets. I have one for each pocket.
These gifts are just a few examples of how you can show some love to your dog's mom or dad. Pet parents will appreciate that you have given consideration to the treasure in their lives! Remember, a gift for a dog mom or dad is also a gift to their dog.
Most importantly, these gifts are ones that the dog lovers in your life will truly use. They will appreciate a gift that acknowledges the importance of their furry friends in their lives. So, take some time to think about what your furry friend would love, and choose the perfect gift from our list.