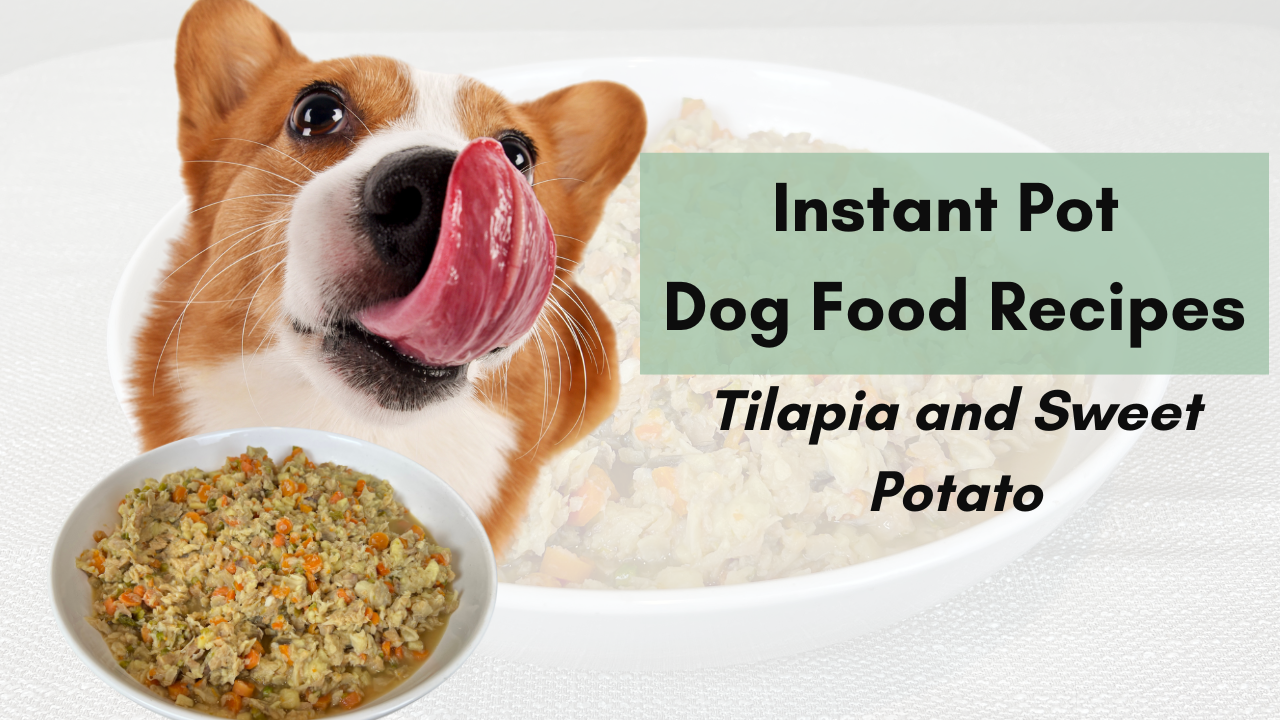 Instant Pot Dog Food Recipes | Tilapia and Sweet Potato
Making dog food in the Instant Pot is quick and easy once you get the hang of it. I used to be afraid of my Instant Pot until my oven broke during the Coronavirus lockdown and I couldn't get my oven fixed for months. I turned to my Instant Pot and now, I'm a convert. I love that I can cook winter squash in a few minutes and whip together dinners fast.
The Holistic Vet Blend Limited Blend recipe can be fed to any dog but was designed for dogs with allergies and digestive issues in mind. It does not have added grass-fed beef liver as the Holistic Vet Blend Regular formula does, and the other ingredients can be chosen for easy digestibility and lack of proteins to be reactive to (for example eggs which can be added to the HVB Regular blend).
Here's an easy Instant Pot recipe that my dogs absolutely loved. You can use broccoli, spinach or kale if want.
Tilapia and Sweet Potato Recipe Ingredients
3 pounds Tilapia

2 TBSP coconut oil

1-pound diced carrots

4 ounces diced asparagus

5 cups sweet potatoes diced into bite-sized pieces

2 TBSP Holistic Vet Blend Limited Ingredient formula

2 TSP Holistic Vet Blend Icelandic Omega-3 fish oil

1 cup water for the bottom of the Instant Pot
Instructions:
Add 1 cup water and coconut oil to the bottom of the pot.

Place the trivet in the bottom of the pot and add the tilapia.

Pour the carrots, sweet potato, and asparagus over the top.

Set the pot to high for 4 minutes.

Do a quick release when done and let the recipe cool before adding the premix.

Add the HVB Limited Blend premix and Omega-3's. The recipe does have them, but I add the 2 TSP Icelandic Omega-3 fish oil, as well as they, are beneficial for allergies and immune system support.
Tilapia and sweet potato for dogs with allergies and digestive issues
This recipe is easily digested and loaded with Omega-3's. Fish is also easily digested by senior pets and pets with digestive issues. Of course, you can use another fish. Tilapia is affordable compared to salmon or white fish, but you could use them if you do not like tilapia.
What should you do if you suspect your pet has allergies?
If you suspect your pet has allergies, you can choose a protein that is "novel" or new to your pet and create a recipe with the HVB Canine Limited Blend formula. You can choose bison, venison, elk, or any other protein your pet has not been eating to do a diet trial for at least 6 weeks and preferably 3 months. If your pet does well, you can stay with that recipe or start adding in other proteins and keep a journal of symptoms to help sort things out. And remember, that environmental allergies are so much more common than food allergies, and to complicate things further, many dogs with food allergies have environmental allergies.
Many dogs with food allergies start with allergies as early as 6 months of age. Surprisingly, only about a third of dogs with food allergies have gastrointestinal issues. Veterinarians use the rhyme "ears and rears" as many dogs with food allergies have chronic ear infections and itchy bottoms and a tendency to scoot.