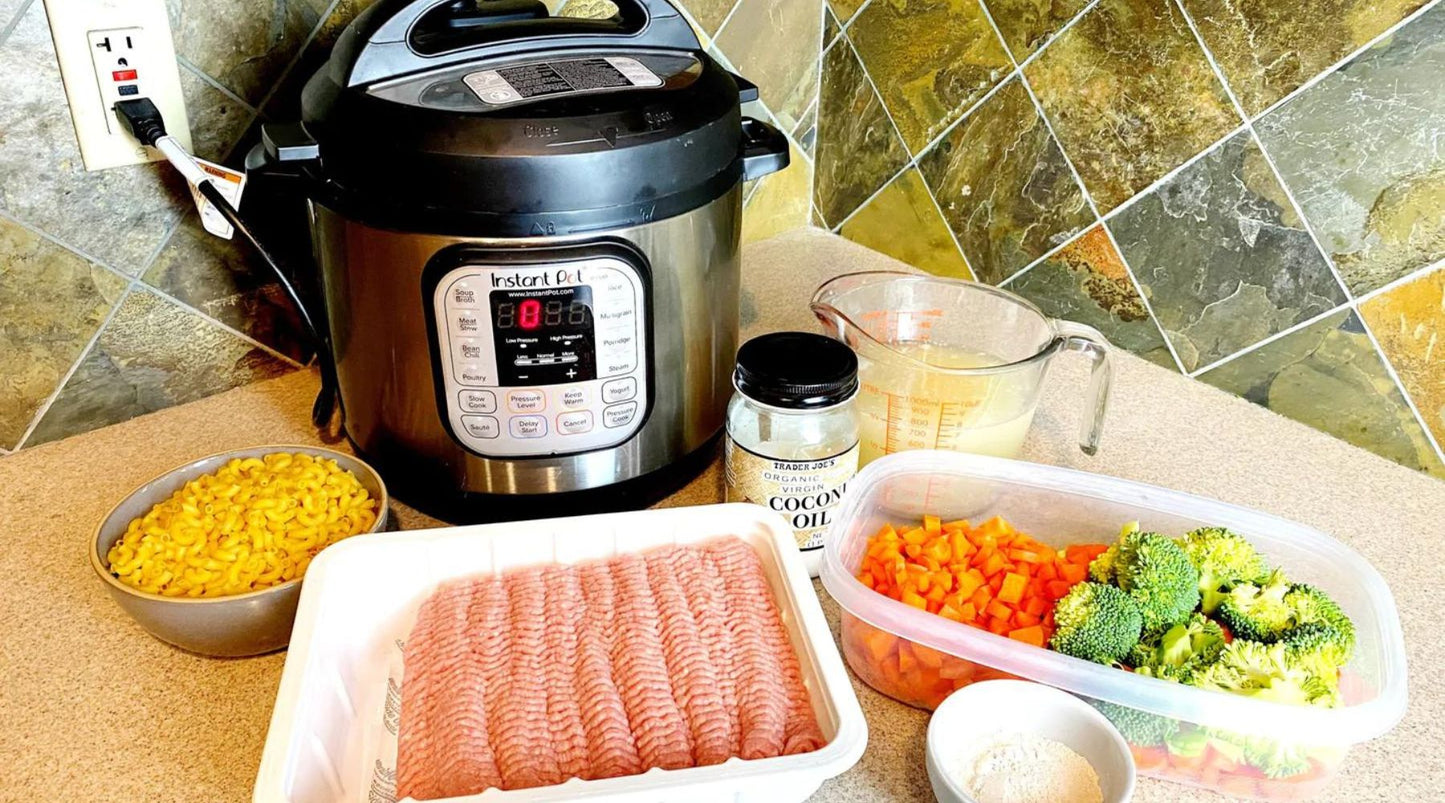 Instant Pot Easy Turkey and Macaroni with Carrots and Broccoli
I am always looking for easy, healthy and economical ways to feed my pets and family.  When I'm at the market and a great deal catches my eye,  I find a way to work it in to my cooking rotation for our family.  So when I found 3 pounds of ground turkey on sale for less than $6.00 I had to come up with a recipe for my dogs. 
I had broccoli and carrots at home to use and all I needed was a carbohydrate energy source.  I wanted to make a recipe to illustrate how quick and easy and affordable it was to make a recipe in the Instant Pot so I chose some elbow macaroni as this takes very little time to cook in the Instant Pot.  You can use gluten free macaroni  (as long as the cooked volume it close to 5 cups),  but it will cost slightly more and my dogs do not have a problem with macaroni.  They like it and its their version of winter comfort food!  All in all, this recipe made 13 cups of food and cost me less than $11.00 to make.  
Ingredients
3 pounds 93% protein ground turkey (anything over 80% is okay)
2 TBSP coconut oil
1 pound of carrots diced in to bite sized pieces
4 ounces of broccoli (one crown) diced in to bite sized pieces
2 ½ cups of elbow macaroni
3 cups of bone broth (I always have this on hand/refer to the blog post on Best of Both Worlds)
3 TBSP (30 grams) Holistic Vet Blend Limited Blend Premix
Preparation Instructions
Chop 1 pound of carrots and 4 ounces of broccoli in to bite sized pieces
Add 2 TBSP of coconut oil to the Instant Pot and turn on the saute' function to melt (this takes less than a minute so be ready to add your ground turkey quickly)
Saute/break up the ground turkey until almost done (6-8 minutes) and turn off saute' function.
Add the carrots, broccoli, macaroni and bone broth to the pot and mix the ingredients evenly.
Set the pot on Manual function for 3 minutes.  
You can allow the pot to naturally decompress after 3 minutes or do an instant release with a long spatula using care to avoid the hot steam exiting.  
Cool the contents and add the premix and Omega 3 source and mix well.
I made this for my dogs on a chilly (for California) weekend afternoon and they loved it!  Save enough for 3-4 days and freeze the rest.  
Below is a feeding guide to approximate how much to feed your dog.  Remember that less active dogs do not need the higher end recommended amount.  Most dogs do not fall in to the very active category unless they are doing more than 2 hours of activity a day (hiking, competing in agility or endurance events).
Feeding guide:
Feeding guide:  fish and lean turkey diets may need 1.5-2X the amount depending on leanness)
5-10 pounds:  1 cup                 
51-75:  5 to 7 cups
11-25 pounds:  1-3 cups
26-50 pounds 3-5 cups
75-100:  7 to 10 cups   
>100 pounds consult with your veterinarian